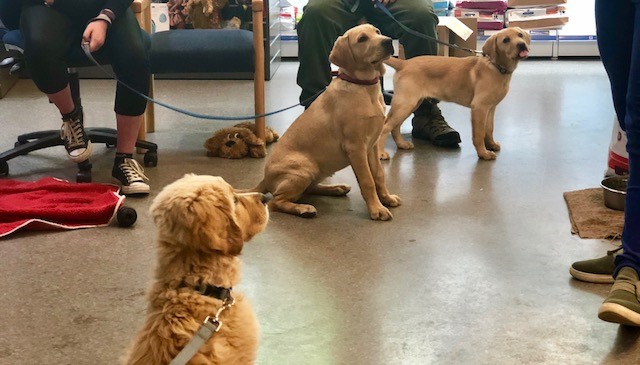 Why Socialise Your Puppy?
Socialisation; why is it crucial for your puppy?
Puppies go through the same developmental stages as many pack animals, including humans, but are much quicker and far more brutal in their approach to play and learning. They depend on strong guidance and positive reinforcement to ensure the desired behaviour is exhibited and the less desirable is then curbed.
This is where it is incredibly important to socialise puppies in their socialisation period between 8-16 weeks. In this period their positive scenarios and experiences will shape the dog they will become. So in puppy classes your puppy learns how to play, bite at the right pressure on their playmate (called bite inhibition), tolerate those they may not enjoy playing with and adapt play to suit a variety of playmates.
Socialisation allows the experience of NEW things whether it is people, dogs, and puppies (puppies behave differently and are more unpredictable than adult dogs therefore it's crucial to play with their own age), bikes, road cones, people in hats, etc. This constant socialising means that they are prepared for upcoming new and previous experiences because they are being exposed often. This enables them to become tolerant rather than overwhelmed. Two of the biggest and most common behaviours are anxiety and fear aggression which can be prevented by socialisation, training and positive reinforcement training.
To help you get started our puppy classes, in our Motueka and Richmond clinics, socialises and trains in a busy environment to allow focus during distraction as well as giving you, the owner lots of tools to aid in control of your dog whilst carrying out socialisation ongoing. Even if your pup is not fully vaccinated, enrol in puppy classes to get them out meeting pups as well as training in a nice safe environment, but mainly, these classes give you advice and teach you how to train your puppy to be the dog you desire to give them the full life they deserve.