Veterinarians
In todays advanced veterinary environment, veterinary nurses provide a critical role in the delivery of quality veterinary care. Without their expertise, professionalism and care, veterinary clinics would not be able to provide the medical and surgical care expected by todays public.
RICHMOND CLINIC
Dr Andrew Conway B.V.Sc. (Owner & Practice Manager)
Andrew graduated from Massey University in 1975 after growing up on a sheep and cattle farm in Canterbury. Andrew is a true mixed practice vet, enjoying a combination of farm animal work and small animal orthopaedics, advanced dental work and acupuncture. Andrew and his wife Jacqui own the business, having now lived in Nelson for over 28 years after working in England for several years. They live just south of Wakefield on about 120 acres where they farm deer and provide a home to a collection of Jack Russells and ducks. Andrew enjoys digital radiography and has a keen interest in equine lameness and management.
Dr Kelly Phillips BVet Med Hons, BSc Hons M.R.C.V.S.​ (Clinical Manager)
Kelly was born in the South of England, and graduated from The Royal Veterinary College in London with Honours in 2002. She worked in a mixed practice in the UK for a year, then took the plunge and moved to Nelson to work with us. Kelly's main veterinary interests are animal acupuncture for which has undertaken a year long diploma course, and diagnostic imaging for which she completed a postgraduate distance education course in 2006. Kelly also enjoys venturing into natural medicine, this compliments acupuncture and conventional medicine nicely and is certainly being well supported by our clients. As well as a variety of medicine, Kelly enjoys a variety of wildlife, particularly birds of prey, and is often found vetting at equine endurance events. Outside work, Kelly enjoys spending time with her husband Neville and their children Jasmine and Josh.
Dr Lyndon White B.V.Sc (Clinical Manager)
Lyndon came to join us at the beginning of 2016, having spent the previous 3 years on the Hauraki Plains in a predominant dairy practice.  Lyndon has a broad base of skills, both with Companion Animals and the large animals. Married to Emma, they have three children, two of which are twins …. so life is very busy !!  Lyndon is originally from the Nelson area and he is a great asset to have back in the region.
Dr Alex Warner B.V.Sc
Alex grew up in rural Lancashire in North West England. After graduating from Glasgow University in 2010, she returned home to Lancashire where she worked in mixed practice for 4 years. Keen for a new challenge, she moved to New Zealand in 2014, living and working in South Canterbury. Since then she has worked in various practices across Australia and the UK, as well as stints volunteering in Fiji and the Greek islands. Alex enjoys travelling, hiking, skiing and most team sports. Luckily for us Alex fell in love with New Zealand and also fell for a kiwi, so she now enjoys adventures with her other half and their beloved heading dog Juno.
Dr John Mace B.V.Sc.
John grew up on a dairy farm in the Waikato, and graduated from Massey in 1988. John, with his wife, Vicky, and three children live on a lifestyle farm in the Moutere. Johns particular interest is in all large animals particularly in dairy medicine, horses and alpacas, for which he has attended conferences to keep him up to date with medical advances. Most recently, John has become qualified as an InCalf Advisor as part of DairyNZ's efforts to address the nationally recognised poor fertility in Dairy Cows.
MOTUEKA CLINIC
Dr Jessie Krul B.V.Sc
Jessie was born in France and lived in Reunion Island. She moved to Perth for her studies and graduated in 2010. Jessie worked in a mixed practice in Mossman, Far North QLD and Dubo, NSW while she met her hubby who then brought her down to the amazing NZ. Jessie and her family have got too many animals at home to keep count, 2 dogs, 1 cat, horses, cows, sheep, 2 then add her 2 kids which keeps her very busy! Jessie loves to ride her horse and truly loves the kiwi life that Nelson offers her family on her lifestyle block.
Dr Katie Bowren B.V.Sc
Katie joined the Vet Centre early 2018. She grew up on a sheep and beef property in Marlborough and graduated from Massey University in 2009. She has spent most of her veterinary career based in South Canterbury working as a mixed animal veterinarian. She also did a stint of locum work based in Hokitika for a year. In her spare time, Katie enjoys spending time with her husband and young family as well a mountain biking and horse riding.
Dr Matt Evans, B.V.Sc (Clinical Manager)
Matt graduated from the same class at Massey as Paula and has since worked in mixed animal practices both in NZ and overseas including 8 years in a practice on the Island of Guernsey where he gained a wealth of experience tending to 'all creatures great and small' – snakes, lizards and exotic parrots dropping in amongst the cats, dogs, horses and cows. Matt has a particular interest in orthopaedic surgery and cardiology and also runs a behavioural consultancy, K9 Correction, helping owners work through various behavioural issues with their dogs. Matt is married with 3 young children who are make sure he is kept on his toes! He enjoys sport, especially rugby and cricket but also finds time for a bit of guitar and art.
Dr Samantha Christian, B.V.Sc
Samantha graduated in 2019 from Massey University with a special interest in everything to do with smallies, especially ultrasound, emergency medicine, and complementary therapies. Samantha and her partner love kayaking and they are hoping to explore the South Island in their boats. Sam also loves surfing, paddle boarding, and painting.
Veterinary Nurses
In todays advanced veterinary environment, veterinary nurses provide a critical role in the delivery of quality veterinary care. Without their expertise, professionalism and care, veterinary clinics would not be able to provide the medical and surgical care expected by todays public.
RICHMOND CLINIC
Chloe Bartlett-Koen
Chloe graduated in 2012 with her National Certificate in Veterinary Nursing from Otago Polytechnic. She has a passion for animals and welfare including her extra curricular involvement in Project Jonah Whale Rescue. Chloe enjoys spending time with her beloved cat Remy who was a kitten rescue here at the clinic and her heading dog cross Reggie. Chloe is our Practice Coordinator, Stock manager here in Richmond and also looks after our large animal portfolio.
Kay Bishell
Kay gained her Veterinary Nursing Certificate in 1998 achieving the Merial Meritorious Award for Excellence. Kay joined our clinic full time in 2000, and has a strong interest in animal rehabilitation and physio. Kay is keen to learn and expand on the rehabilitation within the veterinary field. She enjoys training vet nursing and animal care students that are with us regularly. Outside of work Kay enjoys getting outside and spending time with her family and her dog Moss.
Nicky Black
Nicky started working for us in 1992, and gained her certificate in Veterinary Nursing in 1994. Nicky works is one of our surgical and hospital nurses, and ensures our patients are well looked after. Outside of work Nicky enjoys spending time with her husband, three children and menagerie of pets including her dogs Tip and Rosie, her cats, horses, goats and more!!!!!!!!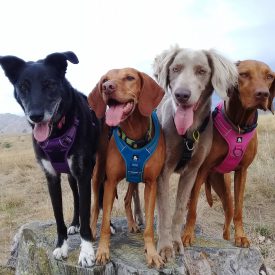 Lizzi Gillard
Lizzi started working for us casually as a kennel hand whilst she studied vet nursing. Lizzi  became such an asset to the team that we kept her on! Lizzi has a keen interest in dog behaviour, obedience and agility and you will often see her surrounded by her 4 dogs out on walks all over nelson! Lizzi takes puppy class intermittently when Jen is unavailable and loves to be involved with training opportunities around Nelson.
Stacey Gray
Stacey graduated in 2004 with a certificate in Veterinary nursing. Stacey is part time here in Richmond and will greet you with a smile on every visit! Stacey loves to spend time with her husband, 2 kids, 2 staffordshire terriers Lexus and Buster, and her cat pebbles.
Emma Ford
Emma is a qualified veterinary nurse with years worth of experience. Emma is picking up some casual hours to help the team out. Emma loves to spend time with her young baby and family as well as help her dad out with breeding poultry. We love having Emma around; nice and smiley and willing to lend a helping hand in any area we need.
MOTUEKA CLINIC
Ren Kennedy
Ren started working at the Motueka branch of the Vet Centre in 2005 when she graduated as a vet nurse. After a year away experiencing life on a high country station in 2018, Ren returned to work here in Motueka. Outside of work you will find Ren riding one of her two mares, walking or running with her many dogs, or relaxing with a good book and her husband!
Lydia Davies
Lydia graduated in 2013 as a Veterinary Nurse through Otago and shes been with us ever since. Lydia is seen mostly at the Motueka clinic and sometimes at the Mapua clinic. Lydia enjoys playing rugby, spending time with her husband, with family and friends and going on adventures with her dogs Maisy and Jet to stay fit and active outside of work.
Cath Reid
Cath works part time and you'll often see her smiley face at the front counter to greet you. Cath lives locally with her 2 kids and her husband, her cat Robbie, 3 legged dog Izzy and her Bunny, all of which keep her busy! You'll see Cath actively involved in her community providing face painting at fairs.
Kat Hicks
Kat graduated with a certificate in animal management in 2017 before going on to study a Diploma in Veterinary Nursing which she completed in 2019. Kat moved to Nelson in 2018 from a small town in the North Waikato where she grew up. Kat loves spending her spare time with her Australian shepherd named Mouchka. Kat has also spent a lot of time around horses and loves competing in eventing and show jumping competitions.
Administrative Team
There is an immense amount of paper work involved in running a veterinary practice, and to ensure that everything happens on time and in a well organised way. Key people are needed to make this happen at our individual clinics.
Katie van der Velden
Katie works across all 3 of our clinics; Richmond, Motueka and Mapua. Katie is a Marine Biologist by trade spending 3 years studying a variety of dolphin species in Marlborough Sounds. Katie has decided to stay on dry land with her husband Dave and her furr babies Encke and Brock. Katie loves to get out for walks with the dogs, she also enjoys gigs, comedy shows and loves to travel.
Lisa Gilbert
Lisa has recently relocated to Nelson from Christchurch to enjoy the sunny Tasman region alongside her husband. Lisa has had the absolute pleasure of having a beautiful puss called Blaxy, who lived a long and happy eighteen years, and a beautiful rehome collie/lab cross called Benny who was her loyal shadow for five wonderful years.  Lisa has previously owned a dog walking business for more than a decade; she loved the enthusiastic greeting from her clients! Lisa and her husband love tramping in their spare time, then to come home and cook up a good feed in the kitchen.
Helen Fry (Accounts Manager)
Helen has worked at Tasman Bay Vets forever! She started at the practice by chance of fate and having always been an animal lover it suited her down to the ground. Helen runs the finances and accounts for the clinics.Helen is a keen horsewoman and is involved in riding, training and breeding. Her horses keep her very busy but she still finds time for her lovable feline Mr Bear, a slightly rotund charcoal grey domestic short hair and Scully, the newest addition, who is a collie/huntaway X. She also enjoys gardening, clowning around and spending time with friends.
Jacqui Conway (Practice Manager & Owner)
Jacqui is married to Andrew and together they own the Vet Centre clinics. Jacqui has a broad management role checking on systems and processes to ensure that both clinics are well run and coordinated. In her spare time, Jacqui loves to spend time with her family, her jack russels, pigs, ducks and helps to manage the deer farm.
MAPUA CLINIC
Jeannie Smethurst
Jeannie is our lovely, smiley receptionist in our busy little Mapua clinic. Jeannie moved to Mapua from The Wirral near Liverpool with her husband and two daughters. They adopted two kittens a couple of years ago, Teddy and Blue, who are living the life. In Jeannie's spare time she loves sport, whether playing or watching, she's game!